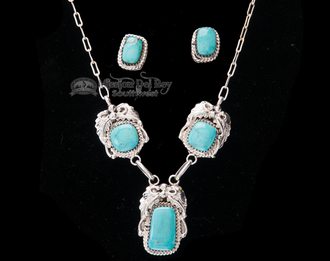 Native American jewelry has been show cased in Vogue Magazine. The diversity of designs and materials used still inspire many designers of contemporary times. Jewelry will always be popular and with the current styles and trends found in Native American inspired pieces, this amazing jewelry can set the mood or tone for your whole wardrobe. From the East to the West, Native Americans use unique and beautiful materials in creating jewelry.
The specific style for Native made jewelry is often times formed from silver and intricate detailing of natural stone such as turquoise. Its diversity is a unique feature and is often highly ornamental and can be used when dressing up or for a more casual environment. Enhancing the specialized look making the pieces some of the most recognizable styles available today, the Europeans contributed their ideas to the construction of traditional Native American jewelry pieces. Some of the prolific tribes of Native American Indians that made impeccable jewelry can be included in the following:
Hopi - Their work with silver overlay is most known. It distinguishes their jewelry from others and are also known for their focus on cultural designs, animal and nature, as well as clan symbols as the signature of their work.
Navajo - The Navajo Indians used both abalone and white shells to create beautiful kinds of jewelry. Always appearing in major jewelry selections, they have become mainstream commercial commodities.
Pueblo - Shale, a form of red clay, was used by the Pueblo Indians to create unique jewelry pieces. They are considered as the masters of turquoise and created almost every possible jewelry design with the use of this beautiful stone.
Zuni - Known for its intricate designs and the use of silver in lieu with lapidary work, the Zuni Indians have produced some amazing pieces. The Zuni Indians focused their designs on stones and using silver as the main outline or frame for the design to fit. They are also very famous for their fetish animal, carved in precious materials and used as adornments to jewelry as well as submitting beautiful stones to their creation.
Many of the materials used today for the making of Native jewelry are found by the sea such as coral and spiny oyster. Also used are precious stones including opal, lapis, and the ever famous turquoise. The metal of choice for most, if not all, Native made jewelry is silver. Jewelry crafted by Native Americans is known around the world today. Even if they don't actually specialize in Native custom pieces, a quick look at most jewelry stores and you will see items that are inspired by beautiful Native American jewelry pieces.
You too can experience these amazing designs by adding a single piece or many prized pieces to your jewelry collection. Be sure you get an authentic Native American hand crafted piece as there are many designs offered for sale today.
See more Native American jewelry here.
Recent Posts
Southwest style has been around for years, but has lately been given new life through the popular bo …

With wedding season just around the corner, chances are you'll be attending the union of two happy p …

As we head into the summer months, you're probably dreaming of lazy days spent on the beach soaking …