Women's Classic Fringed Boot Moccasins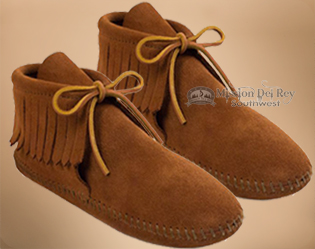 This iconic boot moccasin was made for classic Native style and comfort is handcrafted with soft suede leather.
With use the soft sole suede will form to your foot with every step for a cozy feel. Rawhide laces hold these moccasins in place and a fully padded insole keep things comfy.
You will love the feel of slipping your foot into smooth genuine suede leather moccasins. Buy moccasins online for the entire family. Moccasins make great gifts!
Sale Price:

Sale Price:

$47.49

This is the iconic women's fringed boot moccasin made for classic Native style and comfort, handcrafted with soft suede leather. With use, the soft sole suede will form to your foot with every step for a cozy feel. Rawhide laces hold these moccasins in...

SKU:

wmoc482-4

Sale Price:

Sale Price:

$47.49

Sale Price:

Sale Price:

$47.49

This is the iconic women's fringed boot moccasin made for classic Native style and comfort, handcrafted with soft suede leather. With use, the soft sole suede will form to your foot with every step for a cozy feel. Rawhide laces hold these moccasins in...

SKU:

wmoc482-5

Sale Price:

Sale Price:

$47.49

Sale Price:

Sale Price:

$47.49

This is the iconic women's fringed boot moccasin made for classic Native style and comfort, handcrafted with soft suede leather. With use, the soft sole suede will form to your foot with every step for a cozy feel. Rawhide laces hold these moccasins in...

SKU:

wmoc482-9-5

Sale Price:

Sale Price:

$47.49