Custom Rawhide Lamp Shades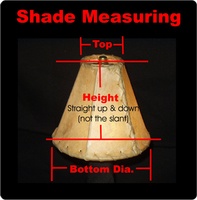 Mission Del Rey is a southwestern home lighting manufacturer of custom rawhide lamp shades for western lamps and decor. Custom rawhide or "raw hide" lamp shades perfectly accent southwest lamps and western furniture. Hand stitching and a warm glow make custom rawhide shades great decoration lampshades. Our custom lamp shades go well with any desk lamp, table lamp, floor lamp, chandelier, wall sconce, antler lamp or fixture. Our custom southwestern lamps and shades and are made by hand with old world craftsmanship.
Each custom rawhide lamp shade is laced by hand to create superior upscale lamp shades for small desk or table lamps to large floor lamps. Because heat can crack natural rawhide, condition regularly for best results. The translucent character of custom lamp shades made of rawhide adds a sense of rustic beauty allowing a lamp to emanate from within the shade to create a natural atmosphere. Lamp shades made with rawhide are perfect for log homes, cabins and cottages as well as any ranch or country decor. Crafting high quality custom rawhide lamp shades is truly an art.
Shade Bottom Diameter = width across the bottom of the lamp shade
Shade Top Diameter = width across the top of the lamp shade
Shade Height = vertical (straight up and down, not the slope)
Custom rawhide lamp shades may require 6 to 8 weeks before shipping. Please contact us if you need custom sizes.