Native American Drums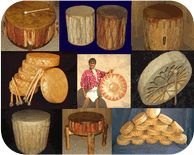 Buy Native American drums for sale online to get the best in authentic Native rawhide drums, made by American Indians. Pow wow drums and hand drums have spanned the generations of the southwest. Native American style drums, made by the Tarahumara Indians are fashioned by hand using indigenous natural materials. Yellow pine and red cedar drum hoops and frames with stretched goat skin rawhide and heavy cowhide are perfect for drumming circles and pow wows.
High quality horse hide, elk, deer and buffalo hide drums have set a new standard of excellence in hoop drums and have become the hand drum of choice for many drummers.
*Wonderful! 9 days from Texas to Belgium Europe! Beautiful service & drum! Thanks
*Positively thrilled with the drum!! Perfect condition, as described. Soon be Back for another!