Women's Suede Ankle Boot Moccasins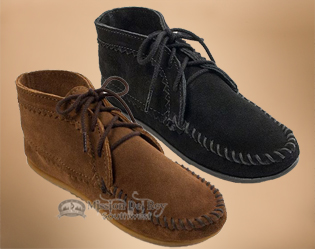 These classy fringed suede ankle boot moccasins that are top sellers with a clean and slim look, traditional laces and hand stitching.
These boots feature a timeless lace-up style. Hand-sewn suede zigzags and stitching add beautiful details to this popular style.
With a rubber sole, these moccs are super flexible with silky soft suede for comfort with every step.
Ankle boot moccasins use cotton laces for a dressed look. Buy a pair of moccasins online today.
Sale Price:

Sale Price:

$52.99

These are classy dusty brown suede ankle boot moccasins that are very popular, with a clean and slim look, traditional laces and hand stitching. These boots feature a timeless lace-up style. Hand-sewn suede zigzags add beautiful details to this...

SKU:

wmoc273-6

Sale Price:

Sale Price:

$52.99