Shipping & Returns
Shipping Notice: Covid-19 is causing shipping delays
Carriers are experiencing longer than usual delays in delivery. Please realize that shipping times are transit times which are increasing. Also, shipping times do not include handling time for order processing and packing. Order early or allow a few extra days for delivery if it is critical.
Monday Dec. 14th is the last day to order for Christmas delivery, but don't wait until then.
Expedited Shipping Note:
Allow 1 business day for handling time when calculating delivery.
Example: Order Monday, ships Tuesday - Next Day arrives Wednesday, 2nd Day on Thursday, 3 Day on Friday. (no Sat. or Sun. delivery or Holiday delivery)
Return Policy:
-Returns are accepted within 30 days for unused items with original packaging.
-No refunds for used or damaged merchandise.
-Refunds are less restocking charge and processed
within 3-5 business days of receipt.
Have questions? email us at sales@missiondelrey.com or give us a call at 915-440-2140
"Delivery Signature Required" may or may not be applied to orders based on location and order value. If you definitely want it, or do not want it, you must let us know before it ships.
Free shipping offers: Valid only to USA 48 Contiguous States, and are shipped by ground service by the carrier of our choice.
UPS SHIPPING NOTICE: UPS is now charging $16.50 for address corrections necessary to complete delivery, which will be added to your order. Please double check the details of your shipping address. The most common problems are: N, S, E, W, St, Ave, Dr, Ln, PL, apartment number, correct city and zip code.

To make a return:
1. Include the original packing slip with order number if possible.
2. Ship prepaid with insurance for total value, to:
Mission Del Rey Returns
1421 N Lee Trevino DR
STE A7
El Paso TX 79936
To make an exchange: (Exchanges are handled as returns)
1. Please make a second purchase for the desired item. This removes it from inventory and allows us to ship it immediately.
2. In the comments section of the shopping cart let us know that this is an exchange for your previous order.
3. Return the original item following the "return" instructions above. When it arrives we will apply the credit to your original order.
---
Shipping - Handling & Transit Times
Handling Time: Please allow one to two business days to process and ship your order (longer during heavy volume). Please note, our shipping department processes orders Monday-Friday and does not ship on weekends or Holidays.
Transit Times: Carrier shipping times are from shipment date and do not include processing time. Carrier transit times are estimates and packages may take longer due to high volume or weather conditions.
Example: If the package leaves on Monday, overnight delivers on Tuesday, 2nd day on Wednesday, 3 day on Thursday. Four day transit time will deliver on Friday and 5 day transit will deliver on the following Monday,

After 9:00am MST on Friday, the next shipping day is Monday.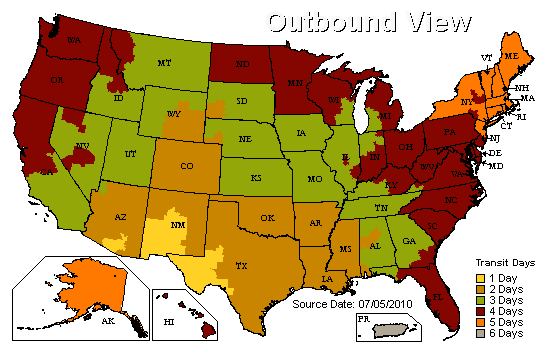 If delivery time is important to you, please check with us prior to ordering or make sure we receive your email explaining your needs so you are not disappointed. We don't want you to miss your deadline, so make sure we know. We'll do all we can to help you.
Express shipping (1, 2 or 3 day) is available as a shipping option and are moved ahead of ground shipping to leave at the first shipping opportunity. Express shipping is 1, 2, or 3 (express saver) business days, express shipping does not include weekends or holidays. If you have any questions about an item arriving on time, please contact us prior to placing an order.
Order Tracking: You can check the status of your order in your account at missiondelrey.com

The tracking numbers are very important. It is your responsibility to track the order to make sure that it arrives safely. While tracking your order, if you believe that it is lost or was delivered to a wrong location, call the carrier right away.

Loss or Damage in Shipping: All Items are guaranteed to arrive safely. We handle all insurance claims and ship replacement items.
-Contact us if you believe your shipment is lost or was damaged in shipping.

Damage In Shipping Procedure: Very Important,
1. Keep all boxes, packaging, foam, bubble wrap and peanuts for inspection by the carrier.
2. Email us immediately to let us know what happened. If possible, attach pictures of the damage to the product and box if anything is visible.
We will initiate a claim and work with you to get a replacement sent.
Note: International orders cannot be replaced or credited until the claim is approved in your country, following their investigation.
---
Freight - Oversized items shipped by truck
Please note: We have no control over trucking companies. We have heard complaints that they can be unorganized, inefficient or rude. Please try to go with the flow and your shipment should arrive quickly and safely. Usually, things go very smoothly. Let us know if you need help with anything.
Allow 3 or 4 processing days to crate your order.
Once the trucking company picks up your shipment, we will have a tracking number for you. Your local delivery driver should (but may not) call you prior to delivery to work out details.
The trucks have a lift gate and the driver can lower the packages to the ground on the street. It is your responsibility from that point. The driver doesn't carry the shipment to the door or inside or set-up, just delivery.
Damage During Freight Shipping: The most important thing is that if you notice any physical damage, that needs to be noted before the driver leaves. (take pictures for the claim)
If there is damage, you can still sign for the shipment, just make sure to note the damage on the driver's paperwork, before you sign for it. (The driver verifies any damage) That way you are covered for an insurance claim if you need one. If it is not noted on the drivers papers there is no insurance claim possible. Take pictures and Keep All Packaging, crate, etc. until the claim is complete.
Contact us: sales@missiondelrey.com 915-440-2140
---
International Shipping:
International buyers accept full responsibility for all shipping and customs related charges.
Returns: Buyer pays all shipping charges and insurance. Shipping charges, taxes, duty and any other expenses are not refundable regardless of the reason for return. Refund will be the product cost less 15% handling any charges incurred.
Shipping Method & Delivery Time: We use USPS priority mail international. Usually it takes 10 days to 2 weeks to arrive. However, please realize that it can often take up to 30 days or more to clear Customs.
Loss in shipping: If an order is lost in shipping we will work with the US Post Office to file a claim after their required 30 day waiting period. Once approved, we will send a replacement.
The post office will not run a trace until after 30 days. If it is lost, your country could require another 30 days to complete their investigation before we can submit a claim. So, could be 60 days before we are able to issue a refund or ship a replacement.
Customs & Duty Taxes: You assume all responsibility for taxes and customs/importation related matters. The customs service in your country may delay and add tax to the package. If you do not claim the package it is destroyed and sale is final. Please contact the Customs service in your country to see what to expect. There may be regulations regarding imported products.