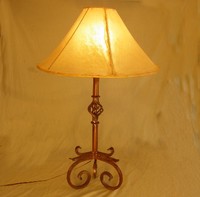 Decorating home with some contemporary and authentically designed items and products is certainly the best way of fulfilling your requirement for home owners, especially for those who think beyond one's expectations and prefer to bring home the gorgeous collection. If you are looking for such amazing items that can transform interior decoration of your home, you should search for some traditional and antique items that also show you your love towards your ancient traditions and culture and provide your home a different look. There are thousands of items available, choosing the best one depends on your choice, location and your cultures. There is no denying the fact that some items are very common to choose.
Western Lamps for Illuminating Area and Decorating Home in Contemporary Way
Western lamps are also one of them that are utilized in a home for lighting and illuminating the area in a different way. Depending on your choice and requirement, you will have some better options of fulfilling your requirement by choosing the best quality western rawhide lamp shades that are wonderful accessories for western and southwestern lamps. They are wonderful accessories for western and southwestern lamps that come with hand-laced stitching and a dark warm glow – making such shades ideal decoration. Not to mention smoke colored rawhide – varies in tone and has natural light and dark coloring and a dark golden brown glow. Western lamp, floor lamp, chandelier, wall sconce, antler lamp and cowboy are some other type of lamps and accessories whit whom such lamps go well.
Places Where These Lamps Are Ideal to Use
Depending on your choice, these lamps are ideal to use at various places that include Native American Indian lamps for log homes, cabins, and cottages, any ranch, and lodge and country décor to provide a very distinct and unique look. These wonderful western rawhide lamp shades are made by hand with old world craftsmanship; while each one of them is laced with natural stitching for a superior upscale lamp shade. These lamps are available in a tapered cone shade and tall bell shade. There is a lot more associated with these lamps that are making them ideal choice to choose.
Mission Del Rey – Brings You Western Lamps and Other Items
Mission Del Rey Southwest is a reliable store bringing you a new range of western lamps and other items like Native American Medicine Bags at competitive prices that you can purchase without going anywhere. You have to choose the right type of bags and place your order.
Summary: For impressive home decoration, you can purchase western lamps and a variety of other items like Native American Medicine bags at competitive prices. You have to choose the best quality from a selected store.
Recent Posts
If you want souvenirs from El Paso and great gifts to take home or send to friends, don't miss the M …

Your search is over! If you are visiting El Paso, TX and want to do some shopping for souvenir …

El Paso Saddleblanket is still in business and going strong with the same great people and produc …