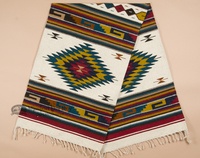 Because you want your southwest home decor to be interesting as well as beautiful, make your rooms say something. Give them life with rawhide lamp shades, Native American style baskets and pottery or southwest rugs.
Keep all ornamentation or rustic accessories subservient to the lines that your room naturally creates. Try to imagine how you want each room to look when completed. For example, light or dark rawhide shades on rustic lamps can make a dramatic impression. Get the picture well into your mind before starting.
Use the colors of hand woven area rugs and floor runner rugs in traditional southwestern patterns, and try to think out the main features or the room. The details all depend upon these and will quickly suggest themselves to you. This is the quickest and the most economical method of furnishing and will keep you from constantly readjusting.
However, there is a theory that no room can be created all at once, that it must grow gradually. In a sense this is a fact, so far as it refers to the amateur decorator. The professional designer is always occupied with creating and recreating rooms and can instantly summon to mind complete schemes of wrought iron, rawhide and southwest rugs or wall hangings for interior design. The amateur can also learn to mentally furnish rooms, and it becomes a fascinating pastime when you get the hang of it.
If you are a lover of the beautiful rustic and country style but were not born with this art instinct, you can quickly acquire it. In a very short time you will have spread your wings mastering the art of southwest decor, working out legitimate rustic interior design, teeming your individuality. When you observe the results, you will be pleased.
Next, you should always be willing to experiment, make mistakes, right them, and take up another challenge. In this way you will grow your skill at interior decorating and the develop your knowledge of rustic home furnishings, and the fundamentals of western ranch, lodge and cabin elements.
Here is a tip to get you started. The more rustic accessories of natural materials you group together in a space the better the whole theme ties together. Try earthen pottery, wooden bowls and kiva ladders along with Indian drums and woven baskets. Use lamps made of wrought iron, pottery, wood or even antler lamps and rustic leather or rawhide lampshades. Then use your theme colors in your southwest rugs even if you have carpeting.
Your progress will be rapid and certain in this fascinating study of rustic southwestern decorating, if a few of the laws underlying all successful rustic interior decorating and design are kept in mind. These are: HARMONY in line and color scheme; SIMPLICITY in decoration and the number of objects in a room, and SPACES which, like rests in music, have as much value as the objects dispersed about the room.
Treat your rooms like a western still life or southwestern art. See to it that each group, such as a table, sofa, and one or two chairs make a "composition," suggesting the comfort of lodge style as well as the beauty of southwestern homes, adobe or a western ranch setting. Never have an isolated chair, unless it is placed against the wall, as part of the scheme of your home decor.
Rustic decor is a lot of fun and can be achieved with existing furnishings by the addition of rustic home accessories. We cannot emphasize enough the wonderful impact that hand laced rawhide lamp shades and hand woven southwest rugs will make. Use these simple tips and you will find that you love to decorate with southwest style.
See Southwestern Rugs and Rawhide Lamp Shades here.
Recent Posts
If you want souvenirs from El Paso and great gifts to take home or send to friends, don't miss the M …

Your search is over! If you are visiting El Paso, TX and want to do some shopping for souvenir …

El Paso Saddleblanket is still in business and going strong with the same great people and produc …