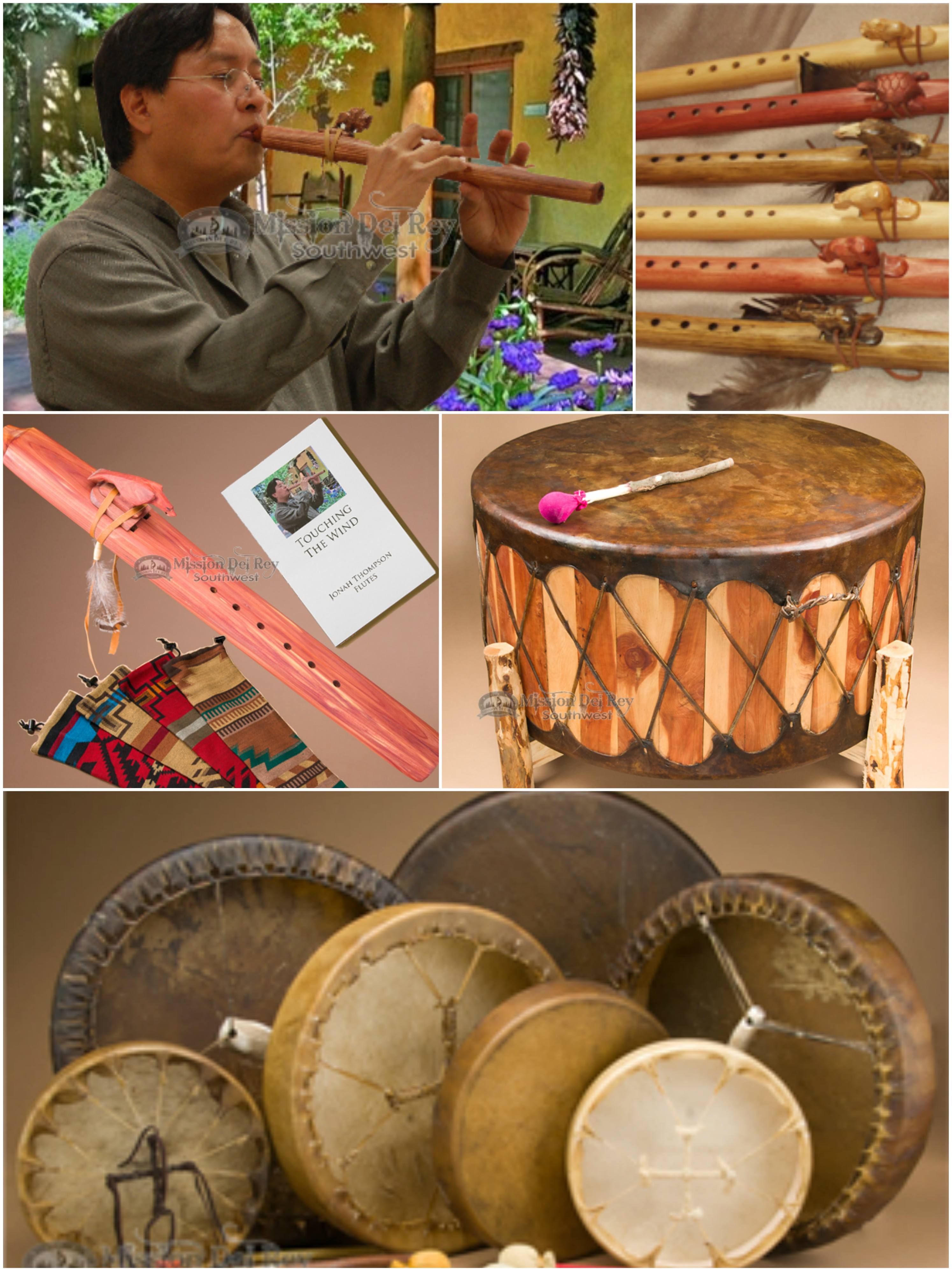 Native American drums have always occupied a place of significance in celebrations, ceremonies and spiritual events among various Native American tribes. While dancing to the beats of sacred drums, and chanting spiritual hymns, tunes and songs, the Native Indians endeavor to seek closeness with their creator. Just as many cultures prescribe peaceful meditation to become one with nature, the drum beating and chanting is the Native Indian way of prayer and meditation.
The drums used by the Indians are not just idle works that craftspeople produce as a source of livelihood. Drum making has deeper spiritual roots – the drums are believed to have souls of their own, and their beats are meant to serve as an intermediary between the earthly world and the hereafter. The magic of the drum beats also helps put the living in contact with the spirits of their deceased forefathers.
Whether it is hoop drums, log drums, Pow Wow drums, hand drums or any other ceremonial drums that you want, Mission Del Rey is where you'll find exactly what you want. All of our products are entirely handmade; and unlike many of the soulless creations mass produced using machines and artificial materials, our products are the result of dedication, love and devotion to traditions, and are made from 100% natural materials.
Heart beats from history
Native Indian drum making is a tradition that has been passed down from one successive generation to another. The art of creating these sacred objects has been learned by master craftspeople in each tribe, and then taught to others that followed in their footsteps. However, as time passed by, each generation has added their unique hand prints to the styles and designs that they created, giving the drums a distinctive contemporary look and feel, while maintaining the historical roots of the instrument.
The historical tradition of appointing a sacred Drum Keeper still lives on today. The person selected to fulfill this role, often the eldest son of a prominent family in the tribe, considers it a great honor. It is the duty of the anointed Drum Keeper to look after the sacred drums to ensure they are always protected and maintained for sacred occasions and traditional events.
The hand drums, log drums, pow wow drums, one sided drums, painted drums and other ceremonial drums that we have assembled here for you are made by a variety of tribes, including Apache, Tarahumara, Shoshone, Navajo, Cherokee, Pueblo and Sioux. Depending on where the tribes were located historically, their drums were created using indigenous materials that were available nearby where they camped. That's why the drums available today are made from such a rich variety of natural materials.
At Mission Del Rey, all of our drums still share the hallmarks of historical Native American traditions of drum making. They are made entirely by hand, and are created using natural materials, including Red cedar, Yellow pine and stretched goat skin rawhide.
You'll also find hoop drums and other Native American drums, made from heavy cowhide, as well as horse, buffalo, elk and deer hide. These natural materials aren't just used for the sake of convenience – they give soul to the instrument. The Natives believe that the trees and animals, whose being is used to make the drums, ultimately live on in the drums that they make. As such, their hearts beat within the drums for ages, enabling them to intercede with the heavenly spirits on behalf of the humans that use the drums.
Variety and choice
Just as there are a variety of drum beats and a broad array of rhythms to which the drums are beat, depending on the nature and purpose of the ceremony or event, so too are there different types of drums. Here at Mission Del Rey, you'll find Native American drums of your choice, each made uniquely entirely by hand using age old drum making techniques.
We encourage you to browse through our vast selection of Native Indian drums. No matter what the occasion, and no matter what the type of drum you are looking for, we're confident that you'll find the perfect beat right here at our website – guaranteed!
See our Native American Drum gallery here.
Recent Posts
Southwest style has been around for years, but has lately been given new life through the popular bo …

With wedding season just around the corner, chances are you'll be attending the union of two happy p …

As we head into the summer months, you're probably dreaming of lazy days spent on the beach soaking …