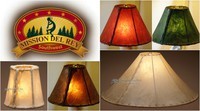 When it comes to rawhide lamp shades for western decor, rustic lamps with rawhide lamp shades are some of the most recognizable western lamps you see in log homes and in southwest decorating or western design. If you have lived in the West or visited Western States, you know what a wonderful impression they make. Rawhide lamp shades & southwestern lamps are popular in all parts of the country.
Lamp shades made of rawhide are functional and very versatile, fitting into just about any decorating style. Rawhide lamp shades are also available in colors to make it possible for designers to use any color pallet. It is equally true with country or rustic decor as well as western.
Try rawhide shades on your project and see for yourself how well they pull together your western design ideas. When you are ready to choose a rawhide lamp shade you will want to decide how the lamp will be used. This is just a matter of deciding where in the room you will use it.
For example, you may be lighting a large area or just accenting a dark corner of the room. Rawhide lampshades are also popular on antler chandeliers, and antler lamps with rawhide lamp shades are a standard for western lighting. From small chandelier shades with built in bulb clips for candelabra bulbs to large table lamps or floor lamps, rawhide shades fit the bill for rustic home lighting.
When using rawhide lampshades for accent lighting, you will really enjoy the warm atmosphere created by the lamp's light passing through the stretched rawhide. In this case you will probably be using a small shade and a lower wattage bulb. This is when rawhide shades are particularly special. It is a perfect combination of color and tone to create just the right mood. While it may not be the focal point of your room, it will certainly add an inviting welcome to the space.
When using rawhide lamp shades for reading you will probably want to consider a large lamp and shade that can be used to provide light from above and behind the reader. This allows for the most comfortable reading environment. Floor lamp shades also allow for great reading light, and rawhide shades are available in just the right diameter for your lighting needs.
Remember, when you are lighting your home you are also decorating, and the light from rawhide lamp shades allows you to filter the bright glare but capture the beauty of the light while also focusing it where you need it. Light rawhide lamp shades sometimes called southwestern lamp shades will let the maximum light shine through, while dark rawhide lamp shades referred to as western lamp shades have a more subdued look producing a smoke or charcoal tone when your lamp is on.
One of the great things about the rawhide lamp shades for sale online is that they work with so many different types of both rustic lamps and traditional styles. As well as the sought after antler lamp with a rawhide lamp shade, they also look great with pottery lamps or wooden lamps. Wrought iron lamps with rawhide shades are another very popular home lighting combination for western decor.
There is really no need to make big changes if you have more modern lamps. Keep in mind that it is the rawhide lamp shade that is creating the look and feel. You can use rawhide shades with traditional lamps and achieve a very nice rustic flavor. The many different variations of size and color lend rawhide lamp shades to practically any environment where you want to add rustic charm or create a room in what has been termed rustic chic style.
Equally at home in the living room, family room or den as well as bedroom or study, rawhide shades can be used in just one room or use them to carry the rustic theme through your whole house. Popular on bedside table lamps as well as on end tables or on floor lamps and chandeliers, rawhide lamp shades can make a dramatic statement and bring a warmth and charm to any room.
To buy rawhide lamp shades online, is easy and fast and you can often save a lot of money. Rawhide is an investment in tranquility and peace that you will cherish. If you love the rustic tradition of Colorado, Wyoming and Montana or want to bring in the Native American style of New Mexico, you will love designing your western decor with rawhide lamp shades.
See our entire gallery of Rawhide Lamp Shades here.
Recent Posts
If you want souvenirs from El Paso and great gifts to take home or send to friends, don't miss the M …

Your search is over! If you are visiting El Paso, TX and want to do some shopping for souvenir …

El Paso Saddleblanket is still in business and going strong with the same great people and produc …