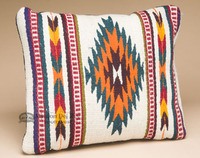 Autumn! What a magnificent time of the year! The air around us is crisp; the trees are adorned in their prettiest colors. Decorating for this season seems almost effortless, especially if you have decided to incorporate southwestern touches into your fall decorating scheme. The lovely bold colors associated with the southwest seem to fit right in place with the fall season. Hand in hand, the two elements working together, can create a masterpiece in your home!
As you begin your fall decorating project, if you plan to purchase new furniture, a good choice would be a leather sofa and love seat or chair in a rich deep shade of brown. Or, if you are on a smaller budget and plan to use existing pieces of furniture, shop for inexpensive sofa and love seat or chair covers, choosing the same rich brown color tone.
When deciding on accent pieces, look for accessories that bring in the colors of fall such as wall hangings, woven rugs and throw pillows in tones of gold, brown, orange, red and rust. With a little creative effort, everything throughout the room will flow together beautifully.
If you have an area such as a coffee table or dining table and are looking for a rustic southwestern centerpiece, a hand carved wooden dough bowl, made by the Tarahumara Indians of northern Mexico, filled with an array of fat chunky candles in various heights, with a cinnamon or spice scent is ideal. Surround the candles with colorful fall leaves made of silk and add a sprinkle of potpourri.
A woven wool table runner, in striking fall colors, such as those made by the Zapotec Indians, from southern Oaxaca, placed under the arrangement, will give an attractive artistic touch to the centerpiece. These runners are woven by hand and each is one of a kind. Sometimes the weaver even tells a story which is woven throughout their design.
A good focal point for your room is the fireplace. If your room includes one, you may want to consider adding a splash of color along the mantle with small bright pumpkins and gourds and a garland of dried flowers. The wall area above your fireplace is a great place to display an authentic Tarahumara ceremonial drum. These unique drums are made specifically for use during Holy Week and are creatively hand painted with interesting designs using iron oxide from the earth. Owning one of these artistic musical instruments, not only helps the indigenous people of the area, but you'll also be thrilled to know you hold a piece of important Indian history and culture in your hands.
There is a variety of lighting options that would be at home in your southwestern fall decor such as lamps made of wrought iron, deer and moose antler sheds, and pottery. Wrought iron would work best in your room if you like more of a Spanish flavor; the deer and moose sheds would be great if your room is aimed more at a southwestern rustic theme and the pottery style lamp would be just right if you desire more of a south of the border look. But no matter which style of lamp you choose, for a fantastic finish, consider a shade made of dyed suede leather on which a lovely outdoor fall scene has been hand painted. Color choices include gold, red, brown, wine and natural and are a perfect choice for the fall season.
Once lighting has been selected, comes the extremely fun part of adding the small finishing touches to your room. You might like to place a brightly colored runner in front of the couch to define the space. Or if you prefer, you could add a rug in front of the fireplace instead. Your sofa needs plenty of throw pillows to make it look inviting as well as a soft throw to help ward off any chill in the fall air.
When choosing art for your walls, paintings should fit within your budget, but more importantly, the art you choose should speak to your soul. Don't rush to buy. Wait until you are able to choose something that you simply love and know will work well with your room's decor. It seems that we are truly inspired during this time of the year and that our creative energies are constantly on the look out for ways to beautify our surroundings.
Be sure to add a charming fall wreath to your front door and set out small baskets of candy corn and pumpkins to welcome family and friends. Take time to create warm fall memories by watching the leaves flutter down slowly from the trees. Enjoy a warm cup of cider with your loved ones and be sure to have the camera ready to capture precious family moments. Harvest is a time of remembering to give thanks for the many blessings in our lives!
See more southwestern pillows and decor here.
Recent Posts
If you want souvenirs from El Paso and great gifts to take home or send to friends, don't miss the M …

Your search is over! If you are visiting El Paso, TX and want to do some shopping for souvenir …

El Paso Saddleblanket is still in business and going strong with the same great people and produc …