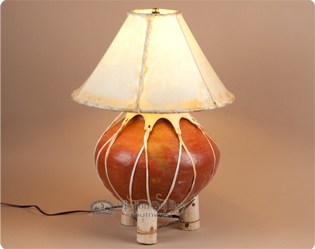 Rawhide lamp shades can be used as replacement lamp shades on your existing lamps or as the perfect accessory to your new rustic lamps. Each rawhide lamp shade is handmade and the shade of choice for southwestern table lamps, vintage or antique lamps or western floor lamps.
Old world craftsmanship and the natural material characteristics of rawhide, allow rustic lamps to create perfect ambiance. If you want rustic lamps that hang from the ceiling such as antler chandeliers, rawhide chandelier lamp shades allow light to filter through the rawhide. Mini lamp shades or clip on lamp shades have a built-in bulb clip at the top of the shade which allows the lampshade to rest directly on the bulb to give your rustic lamps a custom look.
Rustic lamp shades made of rawhide, work with cowboy, Native American Indian lamps, log homes, cabins and cottages as well as any ranch, lodge or country decor, and are the staple of western and southwest decor. You can find a full assortment of sizes at Mission Del Rey where stock or custom rawhide shades are available in 16 sizes. You will love the glow of rawhide lamp shades.
For southwest decor and lighting, bleached rawhide lamp shades have a consistent light cream color with occasional brown, gold and rust colored highlights and a warm glow when illuminated. The light rawhide of southwestern lamp shades is a warm accompaniment to other southwest elements. If you have Indian pottery or Indian drums on the wall or other leather or raw hide near the lamp shade, they pick up the color tones and carry the theme throughout the room. Light rawhide lamp shades look best with light or natural colored rustic wood furniture and accessories such as kiva ladders.
Our southwestern rawhide lamp shades are an excellent example of skill and lamp shade craftsmanship. If you love western lamps, design and decor try using Mission Del Rey's rawhide lamp shades. Made with natural rawhide, southwestern lamp shades have the look you want, and are fantastic in cabins and cottages or anywhere a rustic touch is needed.
Rustic rawhide lamp shades reveal unique grain patterns that are further enhanced when illuminated, and each have a unique warm glow. For a complete or finished look, use rawhide lamp shades on all of your chandeliers, table lamps, floor lamps, wall sconces and candelabras.
See more southwestern rawhide lamp shades here.
Recent Posts
Southwest style has been around for years, but has lately been given new life through the popular bo …

With wedding season just around the corner, chances are you'll be attending the union of two happy p …

As we head into the summer months, you're probably dreaming of lazy days spent on the beach soaking …