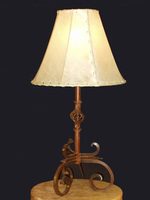 Rawhide lamp shades for warm cozy lighting are natural and functional, giving needed light but also providing the type of ambiance you are looking for to compliment your rustic decorating. Southwest and western lamps and furniture have made rawhide shades the mainstay of cabin and lodge style lighting and have become synonymous with rustic lighting. When you begin to create the atmosphere of your favorite rooms in rustic style, lighting is very important and will set the mood of the space you are working on. Not only are rawhide shades decorative but rawhide is entirely functional and brings life to a room in a way that no other lighting can. When you have the perfect rustic lamp, it requires the perfect shade. Of course, it has to be genuine sun dried, hand laced rawhide because it allows warm colorful light to radiate from with in. Perhaps you have a lamp or a whole room that you would like to transform.
Rawhide lamp shades are the single greatest element in lighting for rustic charm. This is especially true when a room must serve as a varied function area or when it is required to display different moods through out the day and evening. Rawhide lamp shades are especially suited to this type of application because they add such character to the space even when not illuminated. During the day, rawhide with its hand stitching and primitive texture ads a masculine feel to the room without drawing attention to its self. It lends a sort of ambiance that anchors the room and brings a feel of security and strength. During the early evening dimmers can be used on lamps with rawhide shades to add just the right amount of light as a highlight to warm the space and bring out the wonderful quality of the rawhide shade. When you consider the various needs of living rooms, bedrooms, bathrooms, and kitchens, we realize that each space requires different lighting at different times.
The contrast that you want to develop can be accomplished by using several rawhide shades on lamps in the same space. By placing shades on different levels such as floor lamps, table lamps and desk lamps as well as lamps on end tables, you will see how the rawhide ties the room together and causes it to have depth and a larger feel. As you plan this idea of staggered or zone lighting into your design, you will be pleased with the effect that rawhide shades have on the space. Remember, you will want to be able to control the intensity of your home lighting in areas where you watch TV for example or relax for the evening. Rawhide lamp shades with their powerful presence have an uncanny knack of bringing rooms together in a similar theme. For example, if you want to carry the rustic theme from the den to the bedroom, there is no better way than to include rustic lamps with rawhide lamp shades to carry the southwest or western style flavor there or to other areas of the house as well. Not only are they decorative shades but they create a natural lighting environment that is inviting and comfortable. For the ultimate rustic kitchen or dining room try adding an antler chandelier with rawhide lampshades and watch it redefine your room as a focal point of your home. It will quickly become the hub of activity for entertaining and a favorite place for your family to gather. Don't overlook rawhide shades as one of your homes strongest design features. If you will incorporate them in your design for creating warm moods, you will be very pleased with rawhide lamp shades.
Recent Posts
If you want souvenirs from El Paso and great gifts to take home or send to friends, don't miss the M …

Your search is over! If you are visiting El Paso, TX and want to do some shopping for souvenir …

El Paso Saddleblanket is still in business and going strong with the same great people and produc …