Southwestern Zapotec Rugs -Woven Wool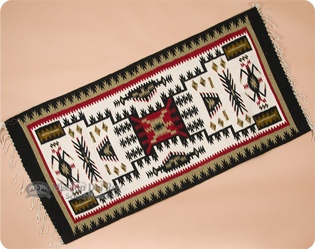 Zapotec rugs are traditional southwestern area rugs woven by hand like Navajo rugs using high quality wool. Used as both area rugs or tapestries for rustic wall decor, these southwest style Zapotec Indian rugs look great on either your floor or wall.
Sometimes called saddle blanket rugs, because of their size and tight weave, southwest Zapotec area rugs create a beautiful color pallet you will love. The colors are amazing. Because you can use Native American style rugs as a floor rug or tapestry, they are very versatile. Use them in the living room, family room or den.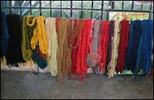 Zapotec rugs are also fabulous in the kitchen, dining room, bathroom and of course bedroom. The Zapotec Indians have for centuries been improving and refining their skills and techniques. With each passing generation those skills are taught to the children as they learn to continue the family tradition. Making the most of their surroundings, they create natural dyes made by stone grinding organic materials and use carefully hand spun yarns to create fabulous unique pieces full of unique character.
With a classic and colorful design, these rustic decor rugs are also perfect as a country area rug and as home accessories or for western decor. For a clean classic rustic feel, southwest throw rugs by the Zapotec Indians of Oaxaca are perfect for cabin, lodge or rustic cowboy, ranch, Indian or bunkhouse look.
Hand woven with quality 100% wool, each Zapotec rug pattern and color scheme is similar but different, giving you the opportunity to have a unique one-of-a-kind rug.