Western Rawhide Lamp Shades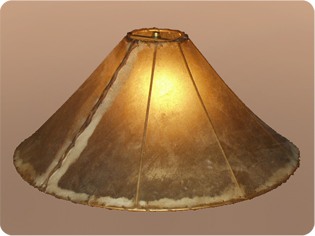 Western rawhide lamp shades are wonderful accessories for western and southwestern lamps. Hand laced stitching and a dark warm glow make western rawhide shades great lampshades for decoration. Smoke colored rawhide that varies in tone, has natural light and dark coloring and a dark golden brown glow. Western rawhide lampshades are a dark charcoal or smoked brown. Rawhide shades go well with any desk lamp, table lamp, floor lamp, chandelier, wall sconce, antler lamps or cowboy, Native American Indian lamps for log homes, cabins and cottages as well as any ranch, lodge or country decor and western rawhide shades has a very distinct and unique look.
Our western rawhide lamp shades are made by hand with old world craftsmanship. Each rawhide lampshade is laced with natural stitching for a superior upscale lamp shade. Western rawhide shades are available in a tapered cone shade and also tall bell shade. All western rawhide lamp shades are in stock for fast shipping.
We recommend rawhide conditioner and a florescent bulb. Read our tips on rawhide lamp shade care.
Discontinued Color, Limited Closeouts Remaining